Dibaq Sense Dog Snax Lamb 200gr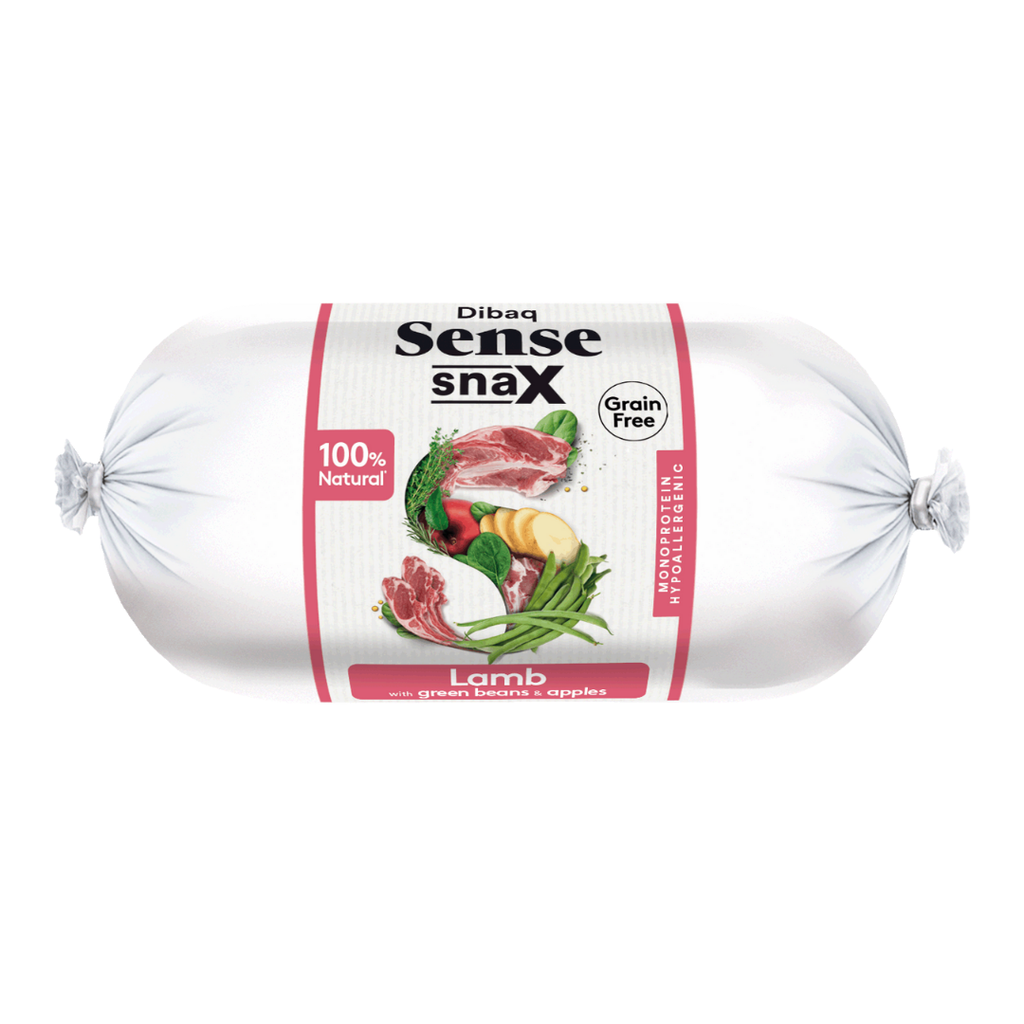 Dibaq Sense Dog Snax Lamb 200gr
Hypoallergenic grain free complementary food for adult dogs of all breeds made with fresh lamb meat. Sausages of 200 g. An incredible grain free dog treat that can be mix with its usual food.

Delicious 100% natural hypoallergenic treats from Dibaq Sense. Made with more than 74% fresh meats, fresh fruits, vegetables and joint protectors. The juiciest natural snack with that extra contribution for the pet's joints.

COMPOSITION: Lamb 42%*, dehydrated potato, vegetable and fresh fruit 4% (green beans*, potato* and apple*), vegetable fibre, salmon oil (source of omega 3 and 6 fatty acids), joint protectors (chondrotin sulphate, glucosamine sulphato and MSM), mineral substances and aromatic plants (oregano*, rosemary*, thyme*). * Natural ingredients.

ANALYTICAL COMPONENTS: Crude protein 10%, crude fat 3.5%, crude fibre 1.3%, inorganic matter 1.8%, moisture 69%, vit A 3000 IU/kg, vit D3 300 IU/kg, vit E (α-tocopherol) 16 mg/kg, metabolizable energy 115.15 kcal/kg.

ADDITIVES: Technological additives: Preservatives and binders (guar gum E-412 and carragenate E-407). Nutritional additives/kg: Chondroitin sulphate 250 mg, Glucosamine sulphate 250 mg. Trace metals: Iron 1.3 mg (such as ferrous carbonate), iodine 0.3 mg (such as potassium iodate), copper 1.2 mg (such as copper sulphate (II) pentahydrate), manganese 4.5 mg (such as manganese oxide), zinc 18.5 mg (such as zinc oxide), selenium 0.34 mg (such as sodium selenite).